Create the Outfit That's Right for You
The Design & Delivery Process
Design
Submit a finished design to us, or work with us so we can put together a design for you. We have cycling jersey templates, as well as design templates for our other products, available below, and you can use them for your own designs.
Submission
We provide you with complete templates in Illustrator or PDF format so you can lay out your design. Design instructions are included with each template.
Creation
Our art department can work from whatever idea you may have even, if it's the proverbial back-of-a-napkin sketch. To simplify the process, we can send you jpg templates on which to lay your sketch and design ideas. Once we have your rough idea as a starting point, we'll produce a fine and attractive finished design for you.
Ordering
Once your design is complete, you will need to submit your sizing and styles, along with a 50% deposit. The manufacturing process will only begin once we have your design, size order and deposit. The balance will be due once we have the finished order ready to ship.
Production
Prior to start of manufacturing, you will see a both a production design layout and a fabric test print. These will represent exactly how your finished item will appear. You will need to approve both the tests prior to final production.
Delivery
Production time is 6-8 weeks, depending on manufacturing demand when you place your order.
Find the article of clothing you want to design.
Click on the illustration to download a PDF file for your use. Please note that we have Adobe Illustrator files for use as well; please contact us to request them, with a note about which files you need.
Design your ideal jacket, jersey, cap or other article of cycling apparel.
Once you've completed your design, send us the revised art in PDF form through our Contact Us page.
Download PDF Design Templates for All of our Clothing
Men's/Unisex Short Sleeve Jersey
Women's Short Sleeve Jersey
Men's Sleeveless Jersey
Women's Sleeveless Jersey
Unisex Shorts
Unisex Long Sleeve Jersey
Unisex Wind Jacket
Unisex Cycling Caps
Mens/Womens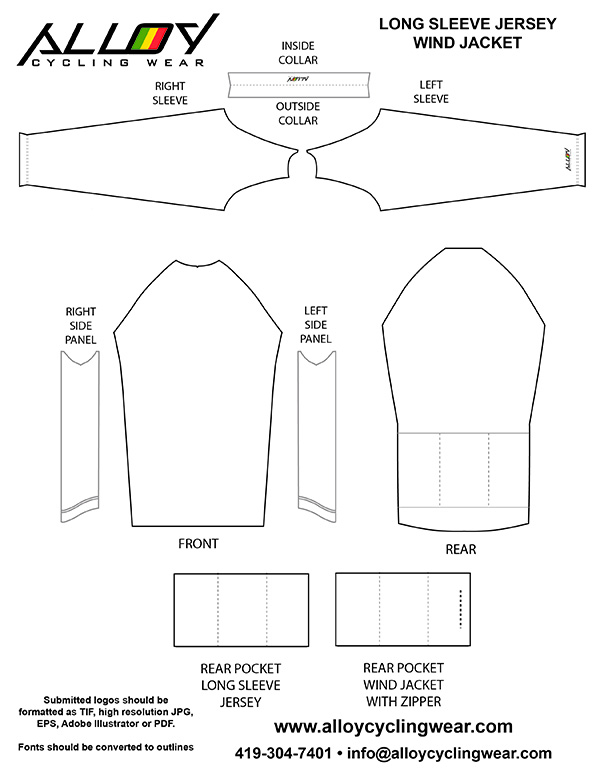 Cycling Cap